Overview
Cerro Delta, located on the Maricunga Belt, is a high-sulfidation epithermal Au–Ag deposit composed by graniodorite to porphyritic rocks intruded by dacitic domes, andesite lavas and mafic reservoirs. It comprises Advanced Argilic alteration zones with central zones composed by vuggy quartz textures with silica superpositions. The superficial geochemical results show values of up to 5, 75 gr/tn.
The geophysical studies show two zones with high-moderate IP-Resistivity likely to indicate sulfide concentration under the surface.
Cerro Delta is located on the Maricunga belt and it is regarded as one of the greatest potential gold-bearing belts at a global scale. Here, there are operating mines as well as exploration projects showing evolution at different stages, from initial stages to feasibility. This is why the region is considered one of the best and richest metaliferous belts with economic deposits in the Andes.
The Maricunga Belt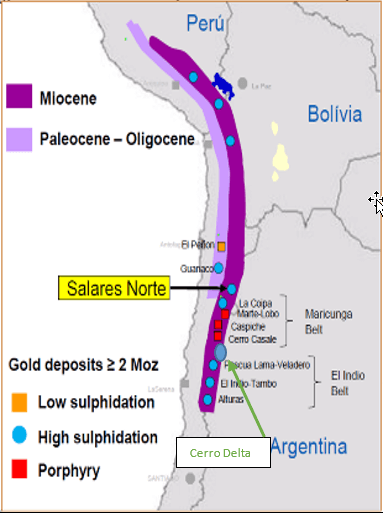 The Maricunga belt is a linear metallogenic unit defined by at least 14 zones of gold and/or silver mineralization between latitudes of 26° and 28° S in the Andean cordillera of northern Chile. Total geologic reserves are 420 metric tons of gold and about 14,000 metric tons of silver divided between intrusion-hosted porphyry-type deposits and volcanic-hosted epithermal deposits of high-sulfidation, acid sulfate type. (Economic Geology Vol. 86, 1991, pp 1238- 1260, Tomás Vila-Richard Sillitoe.)
Vila and Sillitoe (1991) defined the region as a north-south elongate area, roughly 200 x 50 km in extent and 4,000 to 6,000 m above sea level. The region contains at least six compound volcanos along the Western and Domeyko Cordillera, located between Chile and Argentina.
The Maricunga belt is host to a lot of copper and gold porphyr-type deposits as well as gold and silver epithermal projects of high sulfidation going through different exploration stages. Some of them, nearby Cerro Delta, are observed in the image below.
Gallery
(Click to view full image)
Location Map