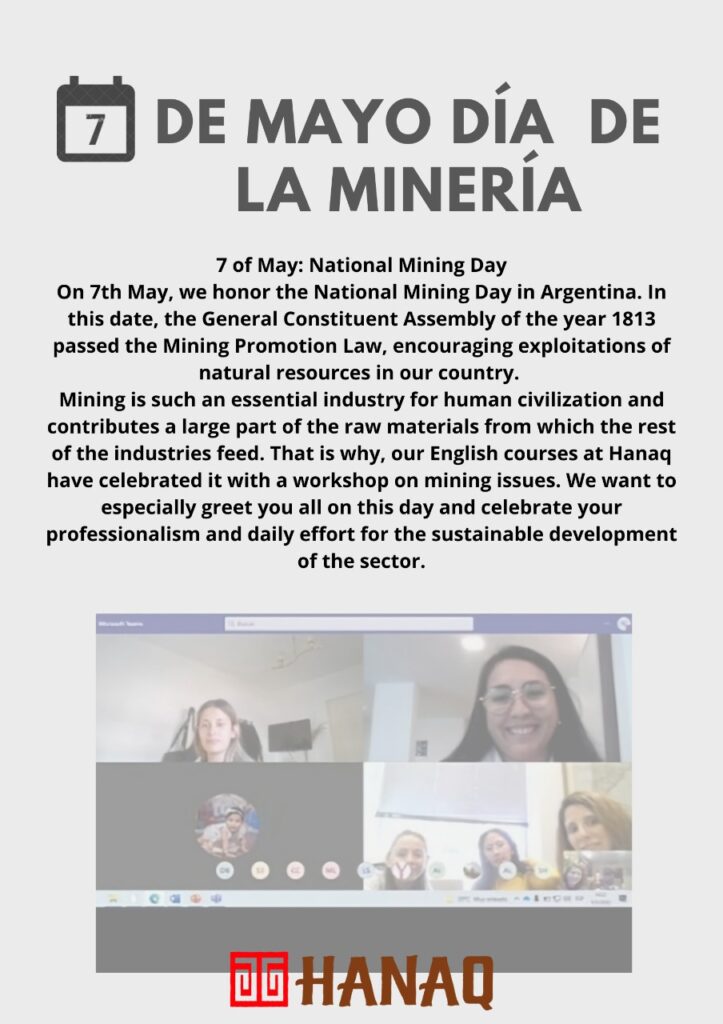 On May 7, the MINING DAY was celebrated in Argentina as a tribute to the first «Mining Promotion Law», which was sanctioned in 1813 by the Constituent Assembly, at the proposal of the Governing Board.
We want to share the activities that were developed in commemoration of this day during the month.
Lunch with part of the Hanaq team at the Hotel Design Suites where we toast and celebrate for working on this rewarding activity.
On Thursday 05/05 the MINING DAY – WORKSHOP was held. The boys who participate in the Advance level English classes, together with the teacher Selene, organized this workshop and invited all the Hanaq collaborators. The boys made a presentation and games. THANKS FOR THE INITIATIVE!
In Olaroz Chicos, Jujuy, a Mining Day Act was held, in which parades were held by students from the schools there and also parades by mining employees. All the authorities of the Ministry of Mining of Jujuy participated in that opportunity, the Shelter was also inaugurated. Very interesting to promote technical education in people from the communities surrounding Providencia.
Let's continue working with commitment contributing to the progress of the mining industry.